Tuesday, March 4th, 2008
I was without my computer from 2/19 until today. I thought I was going to go nuts without it! It was initially thought that it was the hard drive but it turned out that Windows had crashed, so I got it reinstalled and the hard drive cleaned off and now it's running like a top.
We've been having lovely spring-like weather and I've really been enjoying it. Today was rainy though and we had a huge storm about an hour ago. We're under a tornado watch until 7:00pm. I hate when we're under tornado watches!
A new Hobby Lobby opened up here yesterday and of course Mom and I had to check it out. We really liked it and they were having a huge sale. I got two balls of yarn for .99 each and one was 6.49 and the other was 4.99. Mom and Dad are going to give me my birthday money early and we're going back Friday before the sale ends.
I think I'm going to head to my room now. My arm are bothering me from looming last night.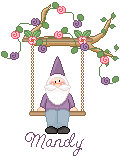 sigtag by Maya's Sigtag Club